I had never doubted my feelings for him nor his towards me. But I would not go so far as to say our relationship is a dream with roses and happiness all the time. After all, a relationship is about growing and changing with someone and like many changes, it's hard and often scary. But the highs are high and the lows are just average, never so drastic as to make me waver or question the relationship.

Sometimes, it feels like a dream. Spending most of my youth reading and writing about romance and love, it would seem expected that I would find someone who loves me as much as I love him. A part of me tries to be rational and not get my hope up, keeping me level so when it doesn't happen, it wouldn't hurt. But it happened!
So 2 years and some odd months later, I started to research for a ring. (You may ask, but he hasn't even asked you?! Read my thought below)
After a year long bombardment of geeky rings on random geek sites, I knew I wanted a ring for my boyfriend's obsession. (At one point, while I was working with the designer, my boyfriend emailed me to tell me he wanted the body sensor ring, a Kickstarter project at that moment. NoooOOO!!!)
I did a lot of research and found my inspiration on the Star Trek shop.

As a trekkie, he even stood in line at Dragon*Con to help out with the largest Trek gathering. However, the ring was a cheap $30 paste. I went in search on Google and finally came to Etsy where this particular ring caught my eye: Star Trek Insignia Ring.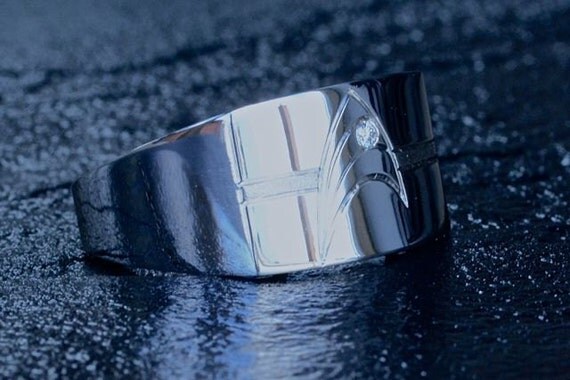 The artist said she had her own studio and it was handmade. So I reached out to her and asked her if she could do something similar to the on the Star Trek shop. I didn't like the symbol sitting on top of the ring, thinking it would snag and break off. And the writing on the ring felt a bit cheap. I wanted a white ring and knew platinum was out of my range but white gold, which was still expensive was a good start. Price negotiated, she started on the designs. With my traveling and working, it took us a few months to finally go through the designs.
The first design was amazing as it was. She took everything I wanted and popped it out better than I can imagine.

Of course, I asked to change the font family to a sans-serif font, which would match better with a futuristic themed ring.

By this point, December had arrived and I had hoped to have the ring for the holiday to have a nice gift. (It arrived a few days shy of Christmas)
I've never created jewelry before or even commissioned work. So I was quite excited to see the process and she was so good to me to keep me informed of the progress.
First step was the waxing of the ring. I assume that means the mold.

A few days later, pictures of the ring came in! Unpolished but a nice 14K gold ring.

A day later, more pictures of the ring being polished.

Several days passed, and she sent pictures of the ring with the diamond inserted and the ring was coated.

The final coat came in later the day, black rhodium around the upper band.

And the following day, the final touches were added and the project was completed. Upon receiving it, I was rather thrilled at how fast delivery from Canada to New York was, especially around Christmas time. Valerie (at VaLa Jewellery) is an amazing designer. Being a designer myself, I love knowing that there are other great designers out there who can read a client's scrambling brain and spit it out so clearly and better than what the client wants. I think that is a sign of a true designer. She was great keeping me alerted of her progress all the way though. I am so glad with the outcome of the ring and I know my boyfriend loves it too.

I tucked the ring in my bag and made my journey to Europe to celebrate the end of the year with my boyfriend's family.
I had wanted to propose by the beach on New Year's Eve but since I'm not good with crowds and we had spent the night with family and friends, I held off. Fortunately, chance was on my side when my boyfriend suggested a walk on the passeggiata a mare in Nervi. It turned out to be one of the few times we actually had alone in Italy.
So the weather was on my side, warm temperature, overcast but bright, and the sea was not too rough or calm, making for great photography. I spotted a rocky passage down towards the sea and begged my boyfriend to follow. He was stubborn and said a local like him would never go down there. Only tourists. He finally relented and came down.

While I was busy pretending to scope the land to take photos, I pulled out the ring and held it up, exclaiming, "Look what I have."
He asked, "What is it?"
"It's a gift, silly. It's for you."
Conversational exchanges took place and the ring was placed, first on the wrong hand, making me worry that I ordered the wrong size. But then realizing the mistake, I placed it on the correct left hand.
I then added, "this doesn't mean you can't propose to me. I still expect a proposal."
There was no fanfare or photographs or family and friends around. It was just us, like it's always been. And it felt right. I thought I would be scared or nervous. But it felt like it was the right time, the right place, and it came out almost unplanned. Maybe that's how it's supposed to be like, to feel like everything fell into place.
—-
Question: he hasn't even asked you?!
Answer: My answer would be, why is it a man's job? Why do we have to say "that's a man's duty" and "that's a woman's duty." I think when one thinks like that, it exacerbates gender inequality by specifying what is "man" and "woman" instead of what is "human" and what is "respect". In our house, the chores are shared, including, cooking, cleaning, walking the dog, and laundry. We both are independent breadwinners and I am so fortunate to be in a career, where as a woman, I am treated as an equal as well. Most of all, to love someone means to care and to respect and to appreciate that person. Does not everyone want to be made to feel good, to feel wanted and loved?